My house, in the middle of my street, la la
First up, apologies to anyone who stopped by yesterday and just saw random photos of my house. Blogger chucked a spaz as I was in the middle of uploading them.
Anyway, so a la
Frally
, here is a tour of my house. I've been meaning to take photos to show my family anyway, and having just rearranged my bedroom it was relatively tidy, so it seemed like an opportune moment. We'll start with my bedroom, shall we?
Here's my bed. I'm not normally a bedmaker (as my sisters, ex housemates, etc can attest) but the cushions and woven fish on my bed (from my aunt and uncle, along with the Underwater Alaska print on the wall and various other things) make me much more inclined to do so. On my bookcase (you'll have to squint here) are not one, but two graduation bears (you know, with cutesy graduation hat and all).




Here's my bedroom from another angle. It's a big room and many photographic angles are possible. Huge windows! Cool Colombian wall hanging (I thought it was authentic but I've seen the exact same hanging with the word Colombia at the top replaced by Ecuador)! Messy desk where I never do any work (don't even own a chair)!




Here's the view out of said bedroom window. The woman next door is our gardener. That's her greenhouse on the right. That's our cherry blossoms looking very pretty and springlike. I'm glad I took the photo yesterday, because right now it is pissing down and everything looks rather soggy.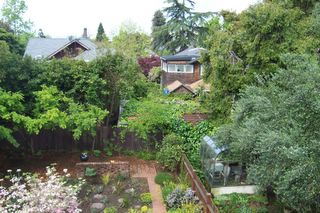 Now, if you look really closely, and pretend that tree in the middle isn't there, you can see Golden Gate Bridge. When it's not foggy or raining. No really, it's there. Squint. OK, just trust me.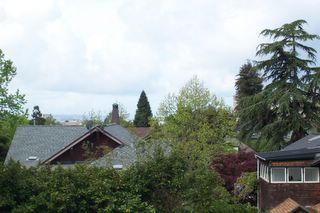 Before we leave the tour of my bedroom, here is the inside of one of my closets (I have two!). Of note: framed PhD degree hanging in closet, Fremantle Dockers football, rasta hat onto which I may sew my dreads. There are other gems in there like the wine bottle holder in the shape of a fireman, but they're a bit hard to see.




Here is the toilet room which is conviently placed right outside my bedroom. There are clouds on the walls. Note that these are not actual clouds. In the US it is apparently uncommon to have the toilet separate from the bathroom, but as this is common in NZ maybe I don't quite appreciate this fact as much as I should.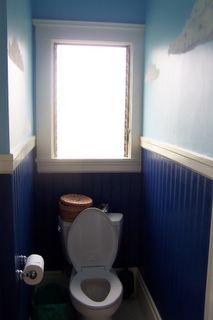 Here is the bathroom. It also has clouds. And Ikea furniture. And, look! There, on the chair! My new hair straightening iron. Aaah.





Moving on, we have the dining room. It is a grown up dining room. The kind of dining room my big sister would have.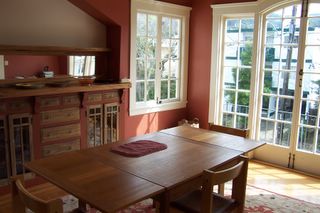 The lounge (loungeroom, living area, living room, whatever you want to call it) is also quite grown up. There is no TV, which is wonderful. Except when I want to watch something.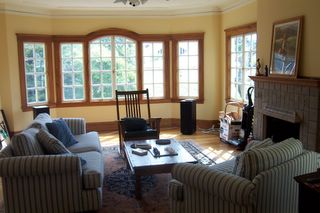 This is our wonderful kitchen. There are teatowels on the bench (translation: cloths on the counter) because we are not allowed to put anything straight on the marble in case it scratches. A tad impractical. And especially for Violet: notice the lovely fridge.




This next one goes out to my ex-housemates. I have a washing machine and dryer. Nya nya nya.


So there you have it. There are other rooms; I have two flatmates. But it would seem impolite to take photos of their rooms and publish them on the web.
R.